Latest Post
A repost from April 2013. This was serendipity as we had not intended this discarded plant pot to water anyone…
Our bees have weathered the winter. But we have noted a switch: our garage bees are usually the real powerhouse-large colony, lots of honey. But they seem to have emerged from winter a bit depleted, subdued. We will have to keep an eye out. Our 'bottom of the garden' bees usually are the smaller of the two, but this spring they seem to be a bigger, more energetic colony.
There are always birds
Of course, not everyone is zen around here (all appearances above to the contrary, neither are the bees). Some are very demanding especially for meal worms, as this video, another repost from 2016, demonstrates:
Yes, baby season is ramping up. We have granddaughters and grandsons of this bird demanding worms from us now!
Speaking of which, rant coming up:  If I hear one more bird lover refer to female birds as being 'hormonal', well, I don't know what kind of spurious threat I can make in these times, but I'll leave it to your imagination. And the comment is made by people whose video and twitter feeds (Lesley the Bird Nerd, and Sophie the Magpie-@breesophiebree)I enjoy, people who have very personal relationships with these wild things. And yet the remark is always made with a 'nudge, nudge, where have we seen this behavior before' kind of tone.  First of all, 'hormonal' is always used in a pejorative sense, as it is with female humans. And as with humans, females are no more hormonal than males. For birds, especially this time of year, males are on a testosterone surge that causes them not only to fight more, but also to build nests, hunt for food. They become even less careful in order to shout the odds to everyone about their territory. This post about Boss (see last photo) demonstrates that: being exposed to any bird of prey on a telephone post was definitely not an indication of his behavior the rest of the year. Males of all stripe are just as much at the mercy of their hormones as females are…
Rant over.
Remote Birdwatching
Spring always marks the return of obsessive bird cam watching for me. The ones I currently keep an eye on: pretty much all of the cams offered on the Cornell site–the barred owls, the American kestrals, Iris the Hellgate Osprey, Big Red and Arthur the red tailed hawks, the New Zealand Royal Albatross, the Savannah Ospreys. Later in the season, I will watch the American Condor cam as well. Additionally, I keep tabs on the Mississippi Trio Nest of Bald Eagles (one female, Starr, and two males, Valor I and Valor II) and the Dunrovin Ospreys, Harriet and Hal (not sure if Hal has returned this year). Usually tour the nests (and twitter feeds) once in the morning and once at night, as well as check in on Iris during the day. It's a pretty full schedule what with my own wildlife and PhD research to keep up with. No wonder I am a rubbish gardener and housekeeper. But, I wouldn't have it any other way…
Speaking of webcams, you have got to watch this to the very end. San Francisco Bay Ospreys (cam supported by the Golden Gate Audubon Society) caught on cam having a difference of opinion over an item brought to the nest by the male:
As an aside, someone from Scotland was "shocked" by the Hellgate Osprey site, located in the parking lot of a university as it is.  The response from the Hellgate cam people was: HUGE difference between the UK protected Osprey sanctuaries and here in the US where they are a dime a dozen and like their nests in the middle of civilization. I know, for the most part, ospreys in the US nest wherever they want, often with assistance of humans who put up nesting sites to keep them off utility poles and wires. But is this true of ospreys in the UK? The Hellgate people had a similar response to Loch of the Lowes Wildlife Reserve posting this on the Hellgate twitter feed, a response to ospreys being scared off nests by kayakers: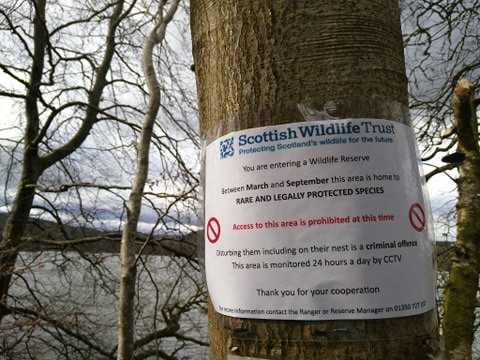 You will note that Iris has a chain link fence around her nest area, but that parking lot is usually full, there is a care home next door with people, trucks etc coming and going. Heck, there's are trains and trucks coming and going….
They're back!
In other news, we have finally purchased a camera to film wildlife, and have seen hedgehogs, foxes, and cats so far. I hope to post some videos in the next post. Hog feeding has started!